Your Child's First Visit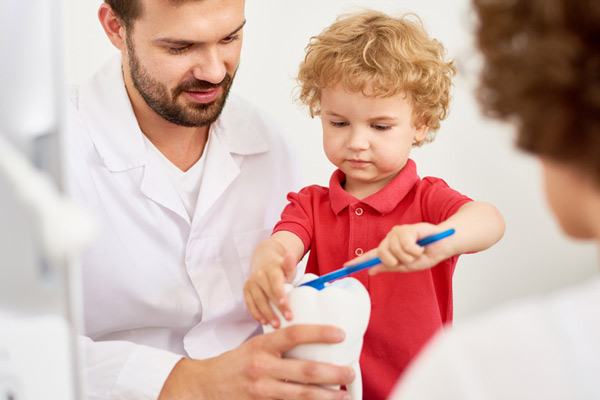 Regular pediatric dental care is an essential part of your child's oral health. Their first appointment with the dentist is equally as important. For toddlers and older children, it can set a precedent for future visits.

At Aurora Children's Dentistry, we want to ensure this first visit is comfortable, informative, and even enjoyable. As pediatric dentists, our office is specifically designed to provide your child with the best possible treatment and experience. After their first appointment, many children even look forward to future visits with us!


When Should Your Child Visit Our Office?

According to the American Dental Association (ADA) and the American Academy of Pediatric Dentistry (AAPD), your child's first dental appointment should occur after their first primary (baby) tooth erupts. We typically recommend scheduling the visit within six months of their first tooth or by their first birthday.

When infants are born, they typically have 20 primary teeth underneath the gums. Although these teeth eventually fall out, they play an important role in your child's oral health. Any problems with the primary teeth may affect the way their permanent ones erupt.

Your child's initial appointment allows us to catch early development issues with their teeth, gums, and jaws. Many of these development issues are easier to treat in the beginning stages. our doctors is uniquely qualified to diagnose and treat most of these problems.


What Happens During the First Appointment?

The first appointment is largely educational. During this visit, our doctors can show you the proper way to brush and floss your child's teeth. For infants, we usually recommend using your finger or a wet washcloth as the teeth erupt. This appointment is an excellent opportunity for you to ask question and voice concerns.

The first appointment will also include a preliminary exam. If your child is an infant, this exam is usually precautionary. If your child is a little bit older, we may check for instances of tooth decay, periodontal issues, and malocclusions (problems with their bite). We will also assess their need for fluoride treatment.

Establishing a relationship with us early on ensures that they receive regular dental care throughout childhood. It also helps your child become accustomed to proper oral hygiene. The goal is always to prevent the need for restorative treatment.


Our Tips for a Positive Experience

There are a few steps you can take as a parent to ensure a smooth visit. Our tips include:

| | |
| --- | --- |
| • | If possible, schedule the appointment when your child is rested and cooperative. For many children a morning appointment is ideal. |
| • | Keep a positive attitude. Kids can pick up on your fear or anxiety. Keeping a positive attitude can teach your child that there is no need to fear the dentist. |
| • | Schedule the appointment by their first birthday. The goal is to establish a foundation of proper early health early on, before problems occur. With good oral hygiene, this foundation can lead to a lifetime of healthy teeth. |
| • | Never use a trip to the dentist as a threat or punishment. Again, we want your child to view the dentist as a positive experience. |
Schedule an Appointment

If your child needs pediatric dental care, you have come to the right place. Call 907-336-1234 to schedule their first appointment now!