Dental Check Up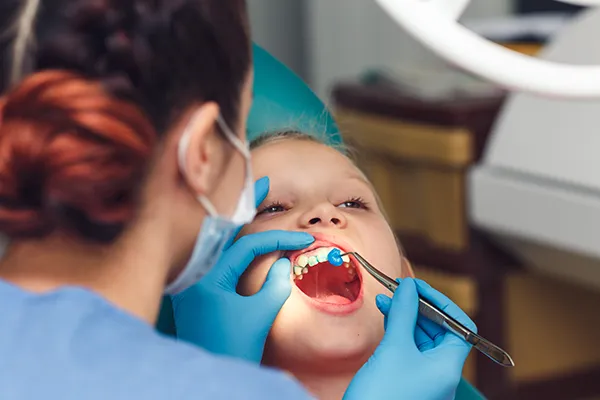 Neglecting your oral health can lead to serious consequences, including tooth decay, gum disease, and even tooth loss. That's why regular dental check-ups are essential for you and your child. At Aurora Children's Dentistry, our expert dentist will carefully examine your teeth, gums, and mouth during a dental check-up to detect any signs of dental problems. They can then provide appropriate treatment to prevent these issues from escalating and ensure optimal oral health. Therefore, you should not wait until it's too late.


Regular Check Ups

Regular dental check ups are crucial for maintaining good oral health and preventing dental problems from worsening. These check ups allow us to thoroughly clean your teeth and examine them for signs of decay, gum disease, or other issues. Not only do regular check ups help detect and prevent dental problems, but they also have other benefits, such as early detection of oral cancer.

Especially for children, regular dental check ups are essential in establishing good oral hygiene habits and preventing potential oral health problems in the future. Often, during a check up, our pedodontist will thoroughly clean your child's teeth, removing any plaque or tartar that has accumulated since their last visit.


Dental Hygienist

Dental hygienists play a crucial role in dental check ups. They perform routine cleanings and remove plaque and tartar buildup from teeth. During your child's check up, our dental hygienist will use special tools to clean and polish their teeth, ensuring all surfaces are free from bacteria and debris. Consequently, our hygienists will also assess your child's overall oral health and provide personalized advice on improving your child's at-home oral care routine. This can include recommendations for the best toothbrush and toothpaste, as well as tips for flossing and other oral hygiene practices.


Dental Exam

During a dental exam, our dentist will thoroughly examine your child's teeth, gums, and mouth to ensure that everything is healthy and functioning as it should be. This includes checking for signs of tooth decay, gum disease, and other oral health problems. We will also look for any abnormalities or issues with your child's bite and examine their tongue, throat, and neck for any signs of swelling or infection.

Catching and addressing problems early on can help prevent more serious issues from developing. Additionally, dental exams allow us to educate children and parents about good oral hygiene practices and help establish healthy habits that will last a lifetime.


X-ray

Consequently, we may also take x-rays to check for any potential issues that are not visible to the naked eye. X-rays allow us to see the structure of the teeth and jaw, including the roots and any developing teeth that are not yet visible. This is especially important for children, as their teeth and jaws are still developing, and we want to ensure that everything progresses normally.

We take great care to minimize radiation exposure during x-rays, using lead aprons and modern digital x-ray technology to reduce the amount of radiation emitted. X-rays are typically only taken once a year for children unless a specific concern needs to be addressed, so you should have no safety concerns.


Schedule Your Appointment Now!

Don't wait until it's too late to take care of your oral health. Schedule a dental check-up with Aurora Children's Dentistry today to ensure your teeth, gums, and mouth are healthy. Our expert dentist will carefully examine your oral health and provide appropriate treatment to prevent dental problems from escalating. Call us at 907-336-1234 now to book your appointment!